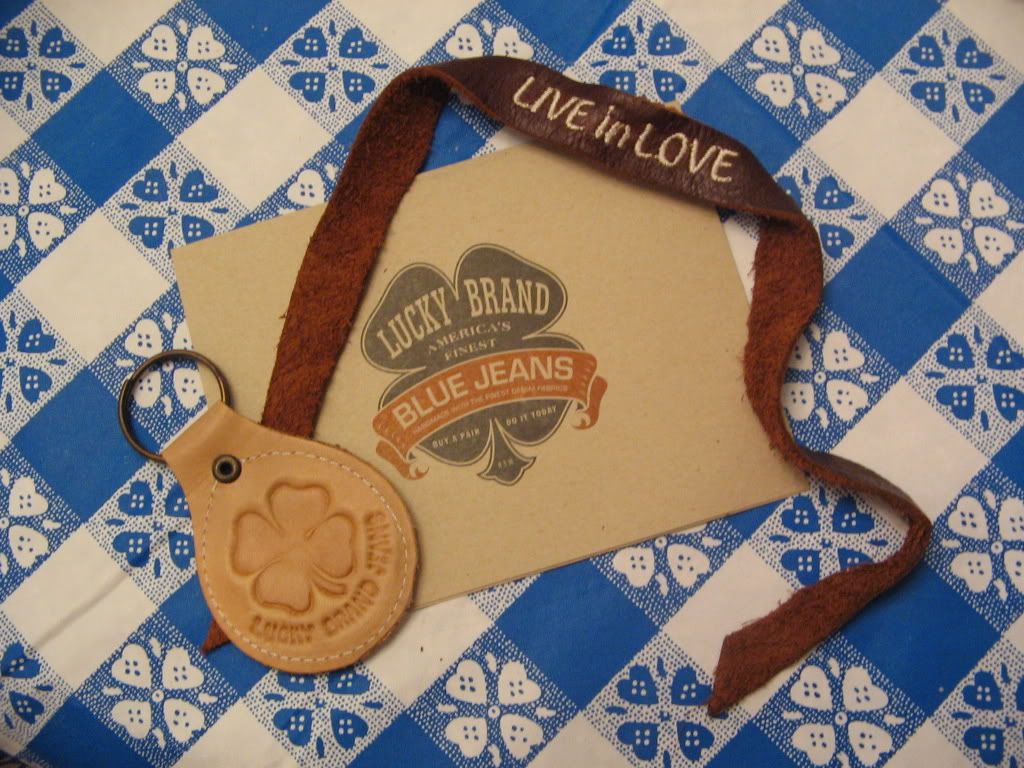 Today, I received a small package in the mail from who else but
Lucky Brand Jeans
! I was pleased to find a keychain, a mysterious leather strip that reads 'LIVE in LOVE' (both my mother and I are puzzled as to its purpose - maybe it's just a tag that they attach to their jeans, and thought I would like?) and a
handwritten
note tucked inside. It's so good to find that some big companies still take time to market customers individually, by treating people with special kindness. I mean, all I did was comment on Denim Highway's
website
, and
they spent money on me
. Postage was $0.58 in itself, and the keychain / leather strip probably cost under $2 to make - but
still
. I've spent $0.00 on their products in my life.
So anywho, here is what the note says:
Hi Jamie - Thanks so much for your nice note about Denim Highway and good luck in college.- your friends at Lucky Brand Jeans
This company definitely deserves everybody's business. I don't live very close to any of their stores - but just as soon as I'm in a city with one, I'll go in and try on some clothes.
The other day I got my hair cut into a shag like
Sandra Bullock
's in
The Lake House.
And I'm going to pick up my new 50s-looking glasses at the eye doctor on Monday. Retro-ready for college!
♥
Jamie