Around nine thirty, my mother and I took two laps around the neighborhood on bicycles. I was testing out this bike my mom bought on sale at
Target
a few years ago, which has since been forgotten in the shed. It's teal and silver, but it has gears and no fenders. Not at all retro-cute like the ones on
BeachBikes.net
. Nonetheless, it was really nice riding at night. A little bit 'forbidden' feeling, since the last time I rode a bike was when I was much younger. :)
I added the blogs I read to the left sidebar, and will be updating them often. Click a few for more cheery reading.
Oh! My mom's best friend from highschool offered to make me a quilt as a graduation present - and you know I took her up on it! I'd much rather have a homemade quilt on my college loft than some mass produced comforter! And this way I'll keep it all my life. Anywho, yesterday we picked out the fabrics. I'm going with a beach theme, so I chose a mix of blues, blue-greens, tans, creams, and whites. They're all prints, of course. Solids are boring. I have this thing with fabric prints lately, so it was really fun.
That reminds me. I need to add
print & pattern
to my blogs list.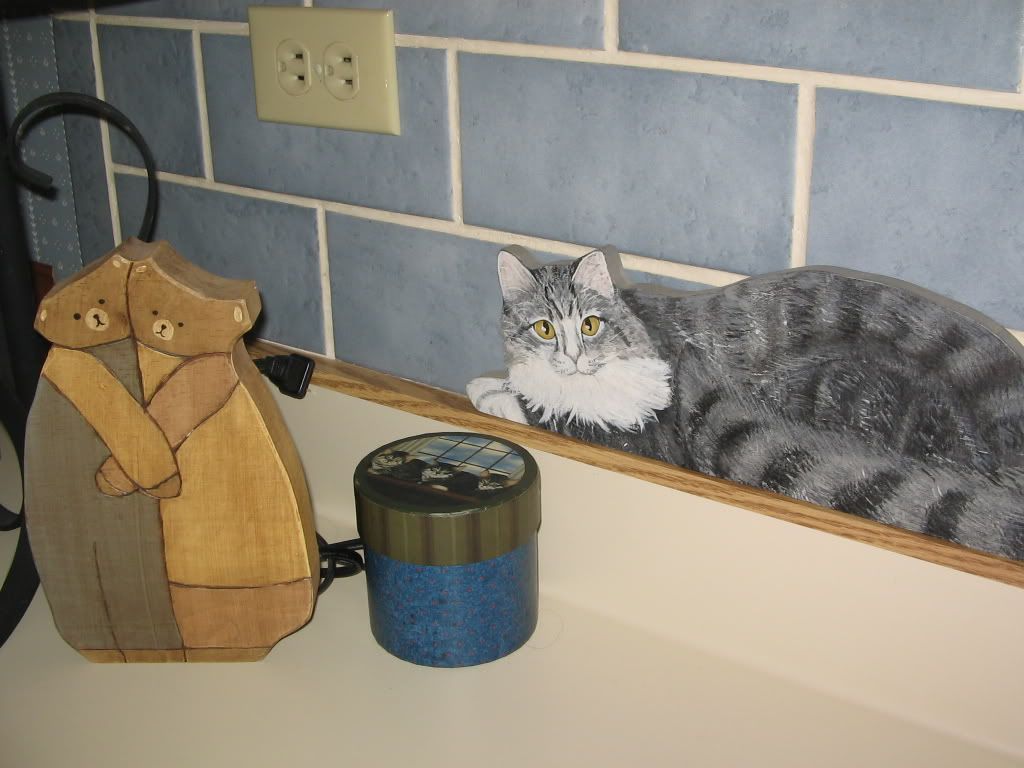 I needed a picture, so this post wouldn't be so boring... and then I remembered this one. While I was in upstate NY this summer, I fell in love with this little corner of my great aunt's kitchen. I don't really know why; it's just so cute. The cat is something she had painted from a picture of her favourite cat from years ago... the little round box was for a gift candle - now it holds nothing, but she keeps it because the top has cats similar to the wooden one above it... and she didn't tell me about the bears, but they are just adorable. Something about this small collection of items with the backdrop of that blue brick tile struck me immediately. Too much HGTV! ;D
♥
Jamie